It is hard to believe that NIAHD is well into its second decade, and Jim and Carolyn Whittenburg's concept of an interdisciplinary public history program has grown into its title.  We now draw students from all corners of the country (internationally as well), we offer courses and programs from the pre-collegiate level to advanced undergraduate studies, and we have become a recognized institution at William and Mary.
Our first stab at the Pre-Collegiate Summer Program in 2002 was a true throw of the dice.  Would students apply?  Would this program format and topic interest high school students?  The initial expectation was for twenty or so students, but as the applications continued to roll in, the program grew to near sixty.  We've capped the program at that level and have consistently filled the slots each year.  This past year, we surpassed 1,150 students, many of whom were "repeat offenders," and over 160 eventually came back to attend William and Mary as undergraduates.  While numbers have remained steady, the program content has undergone some change, mostly with the addition of new site visits (Wilton House in Richmond for the Westover-like interior; an extended Canal Walk in Richmond; and possibly Somerset Place in North Carolina this year), and the disappearance of a few as well (Meadow Farm anyone?).
The Collegiate Program has continued to grow as well.  William and Mary's Ideation magazine marked the Institute's ten-year anniversary with a feature story.  Joseph McCain grasped our purpose with his opening statement, labeling NIAHD as "a history boot camp, taking in young enthusiasts and turning out a set of scholars equipped with both the mindset and at least the rudiments of a skill set necessary for anyone who wants to become a historian."  If we are a boot camp (more fun I hope!), we have certainly produced some great professionals.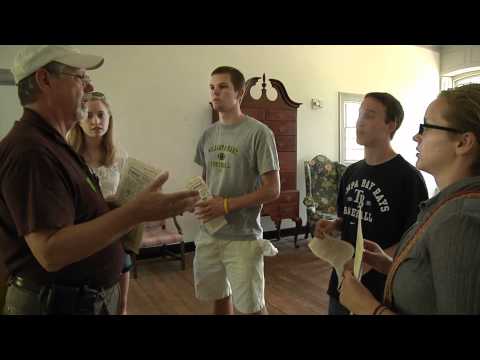 Note the steely eyed Drill (Dance) Instructor
Since Fall 2002, 2,368 students have graced NIAHD courses.  Over 150 have completed the NIAHD certification, and 38 students have come from other universities to participate in our Semester-in-Residence program.  Reflective of the interdisciplinary nature of NIAHD, our students' majors vary widely.  As expected, History, Anthropology, Government, and American Studies majors top the list (over 800), but significant numbers have come from majors ranging from Art to Kinesiology.
Numbers might indicate some degree of success, but the true indicator of NIAHD's strength comes in the relationships we have built with so many of you over the years.  Former students are now our friends, professional colleagues, and our best promoters.  We invite you to continue to participate.  I am always looking for guest blog writers! (topics can vary: where are you now, short write-ups on your experiences, how you are faring professionally), and you can of course stay in touch with us on Facebook.
Here's to the next decade.